###EVENT_FROM_DATE### - ###EVENT_TO_DATE###
Peace ethics debated by experts from both strands of Orthodoxy
###EVENT_WHERE###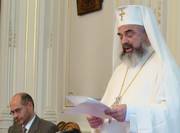 A recent international consultation in Bucharest, Romania, saw representatives from 12 Eastern and Oriental Orthodox churches debate on the teaching and practice of Orthodox ethics on peace.
"The world we live in is, certainly, a world of the affirmation of the desire of domination over other people, in all fields of human life," Romanian Orthodox Patriarch Daniel said as he welcomed the participants to the Patriarchal Palace.
"Faced with such negative attitudes, Christians are called to fight against the selfish passions, such as greed, wish of domination, fury and violence, through prayer and fasting, education and dialogue, reconciliation and cooperation in humanitarian and social actions, attitudes and actions that restore to man the value of being created in the image of the merciful, peaceful and people loving God," the patriarch added.
"We saw a remarkable variety of perceptions regarding the concept of peace in different cultural and national contexts such as Russia, Greece, Armenia, Ethiopia, India, the United States and Egypt," Fr Prof. Daniel Buda, World Council of Churches (WCC) programme executive for the Coordination of Church and Ecumenical Relations said after the consultation.
The 29 June to 3 July consultation on "Peace Ethics in Orthodoxy" was co-organized by the Institute for Theology and Peace (Hamburg, Germany), the WCC, the Institute for Peace Studies in Eastern Christianity (Boston, USA) and the Patriarchate of the Romanian Orthodox Church, which hosted the meeting.
The meeting was one in a series of expert consultations in advance of the International Ecumenical Peace Convocation, which will be organized by the WCC in Kingston, Jamaica, 17 to 25 May 2011.
The papers presented during the consultation by theologians and historians on how the Orthodox churches understand Jesus Christ's message of peace will be published in the coming months.
International Ecumenical Peace Convocation
Full text of Patriarch Daniel's address
Download the report of the conference
---