21.12.11 13:56 Age: 75 days
A church that excludes cannot be holy, assert Indian churches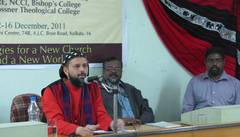 "Churches that practice or remain silent on caste discrimination cannot ascribe themselves the status of holiness", said Metropolitan Dr Geevarghese Mor Coorilos, Bishop of the Malankara Jacobite Orthodox Church in India, and moderator of the World Council of Churches (WCC) Commission on World Mission and Evangelism (CWME).
Coorilos was speaking at the WCC joint consultation for Dalit and indigenous theologians, addressing the theme "New theologies for a new church and a new world", which took place from 13-16 December in Kolkata, India.
The event was organized by the WCC Just and Inclusive Communities programme in partnership with the National Council of Churches in India, the SCEPTRE and Bishop's College, Kolkata.
Coorilos asserted that caste-discrimination is sinful and churches must endeavour to root out this evil system that denies life with dignity and justice for many. This stance makes Coorilos, one of the few Indian church leaders from dominant community backgrounds to have openly condemned casteism and its presence in the church.
Theologians who participated in the consultation came from Adivasi backgrounds, a tribal and ethnic population in India, who has experienced a history of discrimination. Together they stressed the need to think of mission as transformative tool for the cultures of discrimination and exclusion.
Dr. Wati Longchar, a pioneer in Asian indigenous theology, and a facilitator at the meeting highlighted the importance of dialogue in indigenous theology.
"With both its own varied and variant expressions, and the whole variety of global and theological issues, indigenous people's reflections are of particular significance," he said.
The Dalit theologians also worked on developing a document, which will reflect an ecclesiological vision from the perspective of the excluded and marginalized. A report based on these reflections will soon be published.
Rev. Philip Vinod Peacock, a leading Dalit theologian and a facilitator of the consultation, called for the theological necessity of "dismantling dominant perspectives of ecclesiology". He said, "Such perspectives need to be replaced with subaltern agency, as the church in India has historically been an emancipatory space for Dalit liberation."
"Communities of the discriminated excluded and silenced are the ones who formed the first Jesus community," said Rev. Dr Deenabandhu Manchala, WCC programme executive for Just and Inclusive Communities. "These identities and their experiences must continue to guide churches so that their preferences and actions remain authentic and credible."
Attended by theologians from Myanmar, Taiwan, Norway, USA and India, the participants resolved to work together for a more visible alternative vision of the world and the church.
Read also:
"Only the excluded have the stamina to destabilize oppressive structures" (WCC press release of 22 February 2011)
WCC programme on Just and Inclusive communities
Commission on World Mission and Evangelism
---