13.12.11 12:23 Age: 83 days
Ecumenical delegation visits Ivory Coast amidst political crisis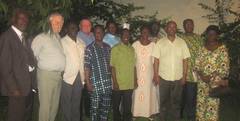 An ecumenical delegation visited Ivory Coast from 28 November to 4 December 2011 and met with churches and civil society representatives to express solidarity amidst violence and political turmoil in the country.
The visit was initiated by the Commission of the Churches on International Affairs (CCIA) of the World Council of Churches (WCC) together with the All Africa Conference of Churches (AACC), the Community of Churches in Mission (CEVAA) and the Protestant Federation of France.
Despite of experiencing stability for many years, Ivory Coast slipped into internal strife, especially after 2004 when the armed rebellion divided the nation into two. Thousands have been killed in the conflict since then.
One year ago disputed presidential elections ushered in months of violence in Ivory Coast, which had repercussions throughout the sub-region.
The delegation listened to stories related to conflicts and violence that have spread across the country in the past months.
The delegation found the problems leading to the outbreaks of violence are neither ethnic nor religious, but have political and economic origins. The traditional values of engaging in dialogue to reach understanding have been eroded despite the peaceful tradition of the country.
The delegation met with leaders from the United Methodist Church of the Ivory Coast, Evangelical Federation of Ivory Coast, the Work and Missions of the Baptist Churches, the Truth and Reconciliation Dialogue Commission, the Catholic Archbishop of Abidjan, head of the ministry of the Interior, the National Human Rights Commission and the governor of the district of Abidjan.
The delegation observed that many people, on all sides, have suffered violence, yet the people of the Ivory Coast are highly resilient. Yet there is a real need for truth, forgiveness, and reconciliation, in order to mend the damaged social fabric.
The members of the delegation were told that some political movements have attempted to manipulate the churches, by trying to add a religious dimension to the conflict. The churches have been impacted by this approach adversly.
The delegation stressed that the strength of the Protestant, Evangelical and Catholic churches lies in their ability to enrich one another out of their diversity, and to use it to serve the cause of unity.
The WCC president from Africa, Rev. Dr Simon Dossou of the Protestant Methodist Church in Benin, who led the delegation, said, "Political authorities do not ignore the historical and instituted churches, but have confidence in their ability."
"Through their extended, country-wide networks, churches participate in reconciliation and the rebuilding of national life; in addition, extremist religious movements should be better identified and monitored," he added.
Read also:
Full text of communiqué from Ecumenical Solidarity visit to Ivory Coast
Accompanying churches in situations of conflict
WCC member churches in Ivory Coast
---