07.10.09 16:43 Age: 2 yrs
Christians begin to rebuild their lives in Orissa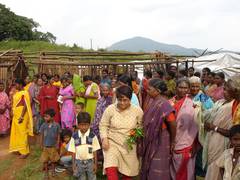 Christian villagers are rebuilding their lives and relationships more than a year after being attacked by a group of Hindu extremists in the eastern Indian state of Orissa.
A World Council of Churches (WCC) Living Letters team travelled recently to Kandhamal, Orissa in solidarity with the victims of the violence that broke out following the murder of the hard-line Hindu leader Swami Laxmanananda Saraswati, 23 August 2008.
The team of eight representatives from churches around the world visited one of the remaining Christian-supported relief camps in the Kandhamal region. They were also welcomed by Christian Pano Dalits and Kandho tribals on land recently demarcated as the site of a new village.
Living Letters are small ecumenical teams visiting a country to listen, learn, share approaches and challenges in overcoming violence and in peace making, and to pray together for peace in the community and in the world.
Dalit and tribal Christians told the group how their homes were burned to the ground and their loved ones murdered when an organized mob terrorized the region in the days following the killing of the radical Hindu leader by Maoists. Thousands of people were forced to flee to the forest before they found shelter in government-run relief camps, which quickly turned squalid.
"I lost my husband in the attack," said Lurdu Mary, 50, from Raikia in Kandhamal. "My sons are alive but they are not with me because they had to flee. The mob came and smashed and looted our house."
Hindu extremists destroyed 500 churches, 126 Christian shops and 5,000 homes leaving 50,000 people homeless. Christian schools and hostels were also attacked. Refugees fled to the nearby towns of Cuttack, Bhubaneswar, Berhampur and Jharsuguda as well as to the southern states of Andhra Pradesh, Kerala and Tamil Nadu.
"We have been providing blankets, saris and mosquito nets to the relief camp nearby," said Sam Naik, director of Happy Valley Children's Home in the Kandhamal district. "We had two medical camps also. The people in the camp have the hope that once the government pays compensation, they are going to rebuild their houses and settle down in their villages. They are very strong in faith and have continued to hold worship."
Some of the homeless told the Living Letters team that they had begun to rebuild their homes, but added they were afraid to return to their villages permanently in case of further attacks. The refugees had been told that unless they renounced their Christian religion, the extremists would not allow them to return.
Churches help in reconstruction efforts
"Many groups have responded to the crisis situation, including the government, but I think the churches have done a lot," said Rama Hansraj from Catholic Relief Services. "Much work has been done in the district to help the victims go back home."
The Living Letters team also met with the Orissa United Christian Forum at the Stewart School in Bhubaneswar, and the Utkal Christian Council in Berhampur.
"By God's grace, the situation is calming down in Kandhamal and work is in progress," said Bishop Samson Das of Cuttack Diocese. Authorities are taking control. But there are still villages where peace and harmony has to be worked out."
The cost of reconstruction of one destroyed house is estimated at 82,000 rupees. Although the Indian Government has committed 50,000 rupees per destroyed house and 20,000 rupees per partially destroyed house, the forum reported that not all victims had received the money legally entitled to them.
The Orissa United Christian Forum has committed to providing a further 30,000 rupees per destroyed house. Forum members reported that 300 houses had already been rebuilt with the churches' aid.
Father Manoj Kumar Nayak from the Bhubaneswar Archdiocese said a committee had been set up in every village to ensure rebuilding work was completed. Father Ajaya Kumar Singh from the Kandhamal Response Programme said legal work was continuing in order to ensure justice was done in the courts and witnesses were protected.
Das added: "So far we have committed to financing 30,000 rupees to 3,000 houses. We will be able to commit to the remaining 2,000 houses in the days to come. The legal aspect is a huge challenge for us."
Ecumenical organisations and NGOs have also started running community projects designed to foster amicable relationships between Hindus and Christians in Kandhamal. Christian and Hindu children have once again begun playing with each other in some villages.
Living Letters team members:
Ms Karen Burke, media officer, Methodist Church in Britain
Bishop Dr G. Dyvasirvadam, Church of South India
Ms Diana Fernandes dos Santos, Methodist Church in Brazil, moderator of the WCC youth commission Echos
Rev. Edwin Makue, general secretary, South Africa Council of Churches
Rev. Gerard Willemsen, regional director for Asia, Mission Covenant Church of Sweden
WCC and NCC staff:
Rev. Rajbharat Patta, National Council of Churches in India
Rev. Dr Deenabandhu Manchala, WCC programme executive for Just and Inclusive Communities
Mr Mark Taylor, intern, WCC Programme for the Ecumenical Movement in the 21st Century
"Indian Christian leaders call for an end to caste-based discrimination, also within churches"
---