20.10.09 13:47 Age: 2 yrs
Faith leaders in India talk peace and overcoming violence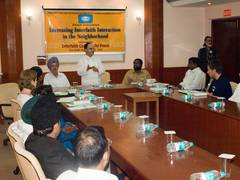 by Karen Burke (*)
Senior representatives from Christian, Hindu, Sikh, Islamic and other faiths have met at the Vivekananda Institute of Human Excellence in Hyderabad, India to discuss reconciliation and peace at an event hosted by Ramakrishna Math and Andhra Pradesh Council of Churches.
A Living Letters ecumenical delegation from the World Council of Churches (WCC) was also present at the September discussion to share experiences and express solidarity as part of the WCC's Decade to Overcome Violence, 2001-2010. Religious leaders offered, from their diverse perspectives, recommendations on how best to overcome violence throughout the world.
Bishop Dr S.K. Parmar, a former president of the National Council of Churches in India, said: "The problem with people is that they are so human. I don't know how we can get out of it. The violence of 'might is right' is a part of our human nature. Is it possible to have some kind of way by which we can overthrow this human nature?
"The human mind is so narrow. Let the windows of the mind be open all the time. Closed minds breed violence, closed minds become narrow.
"We might be able to do something to reduce violence, to overcome jealousy. It depends on a change of mind. Let our minds be open to change so that we can totally renew ourselves."
The interfaith meeting in Hyderabad was the second interfaith fellowship event the Living Letters team attended during a seven-day trip to India. The WCC ecumenical group met with the Delhi Interfaith Forum at the India Islamic Centre to celebrate the festival of Ramadan and discuss how inter-religious interaction for peace and justice could be increased. The forum explained to the Living Letters delegation that part of its work involved supporting an interfaith team of women to travel to different conflict areas in an effort to encourage people to strive for peace. The Living Letters team also pointed out the need for interfaith dialogue on issues of social justice and human rights, such as caste discrimination and violence against women.
Rev. Raj Bharath Patta from the National Council of Churches in India told the audience at the Vivekananda Institute that he believed it was possible to overcome violence.
"Is not discrimination on the basis of religion, gender, class, caste, and sexuality a barrier to peace?" he said. "Let us not compete in religion. Let us come together to the common table."
Sister B.K. Kanti of the Brahma Kumaris said: "All that I create carries some energy, so if I create a peaceful thought, then I create peaceful energy. In order to create peace in this world we should have a peaceful thought. If you really want to transform the world, first transform yourself."
"When we try to inflict our religion on others and say that it is the real truth, then conflicts occur and we are not able to understand each other," said Swami Srikanthananda, director of the Vivekananda Institute. "When we try to limit God, we become enemies. God is beyond our understanding. It is a sin to say we are sinners, we are all divine souls. Religion is realization, it is experience; it is not only theory."
(*) Karen Burke is a journalist and the media officer for the Methodist Church in Britain.
Feature: "Despite women-friendly laws, discrimination and violence remain, Indian activists say"
"Indian Christian leaders call for an end to caste-based discrimination, also within churches"
"Christians begin to rebuild their lives in Orissa"
More information about the Living Letters visit to India
WCC programme on solidarity with Dalits for justice and dignity
---