17.09.09 12:25 Age: 2 yrs
Living Letters team to visit India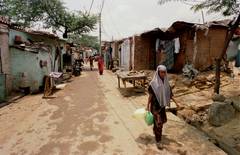 A team of church representatives from Europe, Latin America, Africa and Asia will pay a solidarity visit to churches, ecumenical organizations and civil society movements in India from 21 to 27 September.
The focus of the seven-day long visit will be on the Indian churches' witness to peace with justice in a context of mass poverty, social exclusion and violence against women, Dalits and Christians. There will also be encounters with church leaders, peace activists, and representatives of interfaith peace initiatives and of Dalit movements.
The visit will bring the team of Living Letters to the country's capital city, New Delhi, and to the South Eastern states of Orissa and Andhra Pradesh.
Living Letters are small ecumenical teams visiting a country to listen, learn, share approaches and to help confront challenges in order to overcome violence and promote and pray for peace. They are organized in the context of the WCC's Decade to Overcome Violence as a preparation for the International Ecumenical Peace Convocation in 2011.
Violence against Christians and caste-based discrimination
In August 2008, the state of Orissa saw a wave of organized violence against Christians. Some 20 people were killed, 50,000 displaced and 4,000 homes destroyed by radical Hindu militants who blamed Christians for the killing of a prominent radical Hindu leader. About 200 villages were affected, with hundreds of churches burnt down.
At that time, the WCC executive committee stated its concern "about the alarming trend of growing communal violence and religious intolerance in India". On 2 September 2009 the WCC central committee adopted a minute noting "a decline of religious freedom in many parts of the world and an increase of religious intolerance".
In another statement passed on 2 September, the WCC central committee said caste-based discrimination contradicts the Christian teaching that all are created equal in the image of God. At least 160 million people in India – known as Dalit, or "oppressed", "crushed" – and up to 260 million globally are considered by their own societies as "untouchable".
Information and pictures of the Living Letters visit to India will be made available on our website
Full text of the WCC central committee "Minute on the responsibility of churches for communities enduring anti-Christian violence"
Full text of the WCC central committee "Statement on caste-based discrimination"
WCC work in solidarity with Dalits
---