13.10.11 17:11 Age: 144 days
WCC general secretary visits Pakistan calling for protection of minorities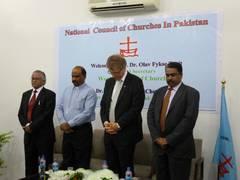 During his recent visit to Pakistan, the World Council of Churches (WCC) general secretary Rev. Dr Olav Fykse Tveit urged for the protection of religious minorities and the need for the state to take necessary measures against religious intolerance.
"The Pakistani government should not turn a blind eye to the culture of violence perpetrated through the use and abuse of the blasphemy law, which intensify communal hatred, intolerance and persecution that can hit anybody in the country, and particularly the religious minorities," said Tveit, who was speaking at a press conference in Lahore, at the end of his three day visit.
Christians are among country's religious minorities including Hindus, Ahmadis, Parsees, Sikh and Baha'is, affected severely by the discriminatory laws, including the ambiguous blasphemy law 295 C, which has caused many lives, including of the minister for minorities Shahbaz Bhatti, a Christian, this year.
During his stay in Pakistan, Tveit met with church and ecumenical leaders and representatives of civil society organizations. The church leaders shared with him how religious minorities especially, "Christians live in an atmosphere of insecurity. The existences of Christians have never been threatened as it is today, and the situation has gone worse in the past years," Tveit was told.
Tveit emphasized, "Pakistan should give protection to every citizen, also its religious minorities under the constitution of the country," recalling assurance given to the religious minorities from the founder of the country Muhammad Ali Jinnah, who clearly stated, "You are free; you are free to go to your temples, you are free to go to your mosques or to any other place or worship in this state of Pakistan," in 1947 after the country's independence.
Tveit was accompanied by Dr Mathews George Chunakara, director of the WCC Commission of the Churches on International Affairs, who described this visit as "timely solidarity expression since the Christian minorities are fearful of the violence which is a threat to the interfaith harmony and peaceful co-existence."
From 8 – 10 October, Tveit addressed an ecumenical gathering at the headquarters of the National Christian Council of Pakistan, met with national executive committee of the Presbyterian Church of Pakistan, attended a public reception organized by the Synod of the Church of Pakistan and the Raiwind Diocese, and participated at the dedication of the Central Cathedral of Praying Hands in Lahore. In his greetings he quoted Psalm 85: "Righteousness will look down from the sky."
Tveit also delivered a keynote address at a mission conference on the theme, "Finding God in a Challenging and Difficult Situation", organized by the Church of Pakistan.
WCC programme on Inter-religious dialogue and cooperation
WCC accompanying churches in situations of conflict
WCC programme on human rights to enhance human dignity
Read also: WCC general secretary explores mission of the church amidst challenges
---