09.11.11 16:16 Age: 117 days
Prosecutor encourages churches to help Brazil face its past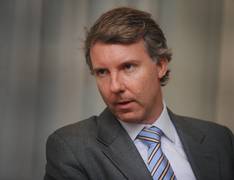 Dr Marlon Weichert, a prominent Brazilian human rights advocate, visited the World Council of Churches (WCC) offices in Geneva on Tuesday, 8 November. In an interview, he appreciated the role of churches in assisting Brazil as it comes to terms with its painful past and envisions a better future. A truth commission in Brazil, he says, will start to make sense when churches continue using faith values in protecting human rights.
Weichert is a regional prosecutor with the Federal Public Ministry of Brazil. His visit to the WCC is timely as the truth commission bill to investigate atrocities committed under the military rule from 1964 to 1985, already passed by the senate, is awaiting approval from president Dilma Rousseff to be turned into a law. The WCC supports implementation of this commission, a stance communicated by Rev. Dr Walter Altmann, moderator of WCC Central Committee to the Brazilian minister of human rights, Maria do Rosário, in a recent meeting in Brasília.
In his interview with the WCC staff writer Naveen Qayyum, Weichert talked about Brazil's struggles for democracy, the churches' role in supporting victims of violence during the military regime and today's need to initiate a process of reconciliation in Brazil.
What human rights violations occurred under the 1964-1985 military rule in Brazil? And why is a truth commission necessary?
The human rights violations range from killings and disappearances to torture, which became worst after 1968, when a more conservative military element became influential. This resulted in curbing dissent by force, when this dissent was taking the shape of a movement, especially by the students. We do not have the exact numbers but around 500 people were killed and more than 50,000 people were charged as political prisoners. Still today we do not know the correct number of the victims, because there has been no truth commission implemented so far.
As Brazilian society, we have a right to know. We should be able to start a process in which we can hold democratic institutions accountable to the people. To complete the democratic process in Brazil, it is necessary that we challenge totalitarian spaces within our society that exist even today. Countries like Argentina, Paraguay, Uruguay and Chile have gone through this process. Therefore this is an opportunity we should avail.
How do you see the role of churches in Brazil's struggles for democracy?
Churches have always played a special role in the struggles for democracy in Brazil. In the dictatorship years, church leaders were protecting the victims of violence through their own networks. Churches from different traditions including Catholics and Protestants were a voice of dissent during the dictatorship years.
We know that after 1979 church leaders and lawyers gathered evidence of atrocities committed by the military regime. This information was documented and sent from Brasilia to São Paulo and outside. The WCC and Center for Research Libraries in Chicago were key partners in this initiative and the content was kept in the WCC archives in Geneva. This documentation includes significant legal evidence for victims providing information about their perpetrators later in the courts.
This is when Presbyterian pastor Jaime Wright, Rev. Charles R. Harper, coordinator of the WCC programme on human rights in Latin America, and Rev. Dr Philip Potter, former WCC general secretary, and other church leaders got involved with this project in 1970s and 80s.
At that time an account of 707 legal cases from the military era was published in Portuguese under the title "Brasil: Nunca Mais" meaning "Brazil: Never Again". I remember reading this as a teenager, which was a motivation for me to choose the field of human rights. This book came in 1985, only a few months after the end of military rule, and was one of the best sellers in Brazil.
This is a great accomplishment of the churches in Brazil, and shows their commitment to the cause of human rights, which fits well with the faith values they preach.
What are your views on the return of these "atrocity documents" by WCC general secretary Rev. Dr Olav Fykse Tveit to the Brazilian government earlier this year?
The ceremony, in which the WCC handed over these documents to the Brazilian attorney general in São Paulo in June, was an emotional moment for all of us. The churches have come through a long journey since the dictatorship years, and now are helping the society to face up to its past and working together for better democratic institutions in the future.
This contribution manifests itself in the restored court records, which are now available for public consultation on an internet site called "Brasil: Nunca Mais Digital" [Brazil: Never Again-digital]. The name pays tribute to the earlier book detailing state crimes committed in the era of military rule.
Churches have a strong role to play now that the truth commission is passed by the senate and is now on the desk of the president to be signed. The process will only make sense if civil society including churches follows the process, especially by helping communities to understand the truth, and to learn crucial lessons from history.
Read also:
Healing memories: atrocity documents given by WCC to Brazilian government
WCC repatriates documents on abuses by Brazilian military dictatorship
Charles R. Harper: O Acompanhamento (in English)
---