IEPC workshops "Reasoning"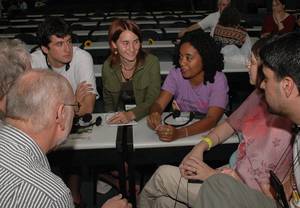 What is "Reasoning"?
This is the name that was chosen for a series of workshops for sharing and learning at the International Ecumenical Peace Convocation (IEPC). In Caribbean folk culture nowadays "Reasoning" is used for any form of intellectual interaction. The term was originally introduced in Jamaica by the Rastafari for their ritual coming-together in a circular seating pattern to share divinely-inspired thoughts and insights about their faith, the affairs of the day and their hopes for repatriation and redemption.
Reasoning will provide a space for reflection, formation and sharing of best practices, through concrete examples related to peacemaking and a special focus on youth. It is an opportunity to grow and to learn, to meet people from different regions and traditions to discern together how we can be agents of God's transforming presence in the world for peace.
Reasoning will offer an opportunity to deepen reflections on the IEPC themes, provide participants with valuable tools to take back to their home setting and put it into action. Where possible, workshops should relate their topic to the theme of the day.