20.12.11 08:50 Age: 76 days
Searching for a new financial and economic architecture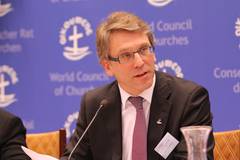 "To date, measures adopted by governments and international institutions in response to the current economic crisis have been palliative and short-sighted at best, and at worst ineffective and unjust," said World Council of Churches (WCC) general secretary Rev. Dr Olav Fykse Tveit. "There is a need for a new discussion on morality and ethics in respect of the financial systems".
Tveit was speaking at a meeting, where the WCC along with World Communion of Reformed Churches (WCRC) and the Council of World Mission members from Africa, Asia, Latin America and the Caribbean, North America and Europe got together to plan for a conference on proposing a criteria and framework for "new financial and economic architecture".
The meeting took place from 12-14 December at the John Knox Conference Center in Geneva, Switzerland.
At the meeting participants addressed issues triggered by the global financial crisis, and devised ways of working together to find ethical and theological responses to the current flawed financial and economic system.
"The ongoing and deepening turbulence in our global financial and economic system, together with expanding and multiplying pockets of social unrest around the world, clearly demonstrate that important parts and dynamics of the current international financial and economic architecture is fundamentally flawed," said Tveit.
Tveit was referring to several protests in European cities including Madrid, London and Athens, in the United States with the "Occupy Wall Street" movement, as well as the democratic uprisings among several Arab nations.
This issue is of great concern for the ecumenical movement, on behalf of which, the WCC has been engaged in the field of justice and service for many years, he said.
He also pointed to and thanked the 2010 WCRC General Council at the Grand Rapids, Michigan, USA which proposed the need to organize a conference on advocating for a criteria and framework for "new international financial and economic architecture". He explained how important this step is, given the recent political turmoil and eruption of people's protests around the world.
Since the 1980s, the work of the WCC Advisory Group on Economic Matters (AGEM) conducted, among others, studies on the new international economic order (NIEO), The International Financial System: An Ecumenical Critique and the current work with its report on Justice Not Greed addressing the 2008/9 financial crisis.
Recent work on the Alternative Globalization Addressing People and Earth (AGAPE) also has indicated that without regulation of financial markets, bubbles and crashes will appear. This indication in 2006 during the WCC 9th Assembly in Brazil, became a sad reality afterwards.
The WCC Central Committee Statement on Just Finance and an Economy of Life issued in September 2009, also emphasized that the crisis warrants a new global financial architecture.
To bring together studies on structural and developing greed indicators, as an ecumenical contribution to new economics, the WCC will organize a Poverty, Wealth and Ecology Global Forum in China in June 2012.
Read full message of WCC general secretary on "new international financial architecture" at WCC/WCRC/CWM meeting 2011
North American Christians call for a focus on poverty, wealth and ecology (WCC press release of 14 November 2011)
WCC programme on poverty, wealth and ecology
---