Living Letters solidarity visit to the Democratic Republic of Congo (DRC)
8 to 15 July 2009
An international team of church representatives will pay a solidarity visit to churches, ecumenical organizations and civil society movements in the Democratic Republic of Congo (DRC) 8 to 15 July 2009.
The team is travelling as "Living Letters" on behalf of the World Council of Churches (WCC) and is a joint initiative of the WCC and the All Africa Conference of Churches (AACC).
The DRC is still recovering from a five-year conflict that claimed millions of lives and paralyzed much of the country from 1998. Despite a peace deal and the formation of a transitional government in 2003, violent attacks in Goma and the surrounding area of eastern DRC have continued even in 2009. However, efforts to restore peace are ongoing and an agreement was signed by several militia groups to dissolve their organizations. As a result many displaced people are now returning to their homes and farms.

Churches in the DRC are working to alleviate the humanitarian crisis, promote a peaceful resolution to the conflict and advocate for an end to the violations of human rights. The Living Letters delegation, headed by WCC general secretary Rev. Dr Samuel Kobia, will form five groups visiting different parts of the country - which is the third largest in Africa - 8-11 July 2009, before coming together in the capital Kinshasa, 12-14 July 2009.

The groups will attend a 12-15 July 2009 AACC women's conference in Kinshasa, where the WCC general secretary will preach at an ecumenical celebration and make a keynote address, and a meeting of theologians and Kimbanguist church leaders. They will visit communities and projects in Goma and Bukavu in the east, Bas-Congo in the west and the central Kasai province, as well as the area around Kinshasa.
Press releases and feature articles: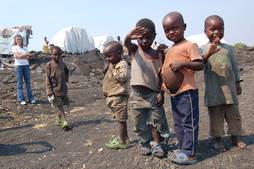 Interview
Meeting the Living Letters delegation at the Nzulo Camp for internally displaced people, Anna Muinonen of FinnChurchAid spoke to journalist Fredrick Nzwili about the churches' relief efforts in the eastern DRC.
More on the Democratic Republic of Congo (DRC):