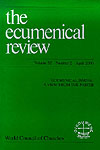 The Ecumenical Review
World Council of Churches
April 2001 issue: An introduction to the Decade to Overcome Violence 2001-2010, and a discussion of situations of violence around the world.
164 pp, CHF12.50, USD7.95, GBP5.25, Euros 7.95
ISSN 0013-0796
The Ecumenical Review is a quarterly theological journal published by the World Council of Churches.
Available in English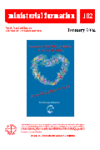 Ministerial Formation
World Council of Churches, Education and Ecumenical Formation
This biannual journal aims to encourage sharing and cooperation among all who are working for the renewal of the churches through programmes of ministeral formation.
ISSN number 0255-8777
Length: about 50 pages
Available in English
Ministerial Formation is produced two times a year by the staff of Ecumenical Theological Education Programme since 2003.
Subscription: US$ 10 (or equivalent) for one year, although free copies are available for those persons or institutions, who, for whatever reason, cannot make a payment.
Click here to find the .pdf version for downloads.
Also available from WCC Publications by secure on-line order or by faxable order form.